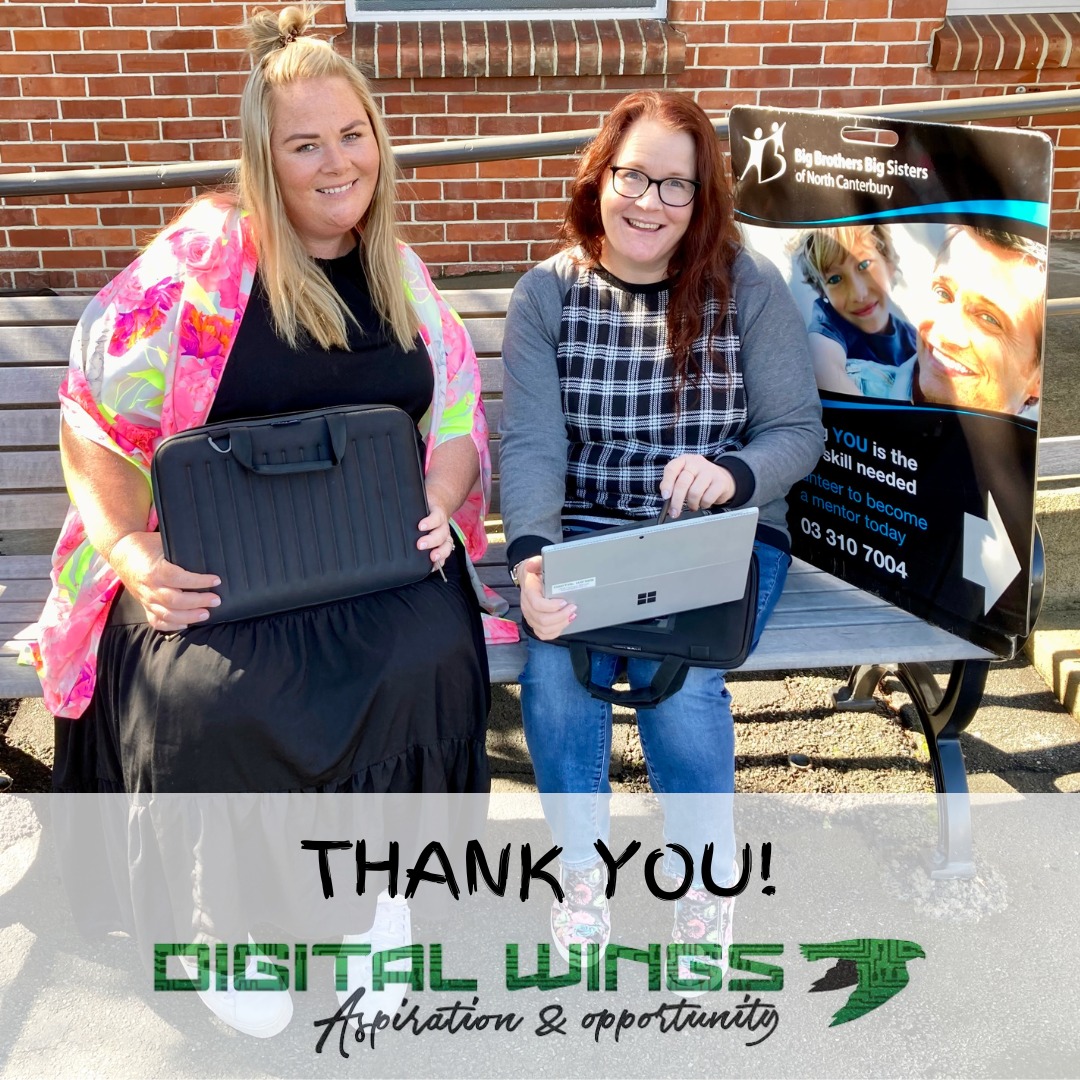 Charities report Digital Wings technology has increased:
Efficiency in offices and boards of trustees
Better outreach to whānau and clients
Digital upskilling of staff and volunteers
Digital literacy and inclusion of community
Ability to apply for funding and access Xero, MYOB etc
Involvement of Rangatahi youth in education, technology and STEM
Support for employment and training, drivers licencing
Access to health and social services
Connectivity to the world via zoom meetings, seminars
Ability to develop local enterprise and businesses
Organising and running public events and courses
Collection of data and record keeping
Social cohesion, connectivity and wellbeing
Evolution Theatre Company
Thank you for arranging the gift of two laptops for Evolution Theatre Company.  Digital Wings has been very good to us and we appreciate this support very much. We've made a great comeback from the burglary.  Last week we had five events that were well-patronised, and the Comedy Festival will have a couple of shows mid-July.  We now have an effective security system including a monitored alarm and the laptops will be secured when not in use.
Lincoln Scout Group
This is such wonderful news!  The scout group is going to be thrilled! Thank you so much for your generous donation to our cause.  It's going to make our work so much easier, and our data storage so much safer.
Mangapapa Playcentre
Te Whānau Tupu Ngātahi o Aotearoa | Playcentre Aotearoa
Many thanks! This will make a huge difference to our centre having a reliable laptop that is specifically for centre use. We so very much appreciate the support of Digital Wings!
Youth Encounter Ministries Trust
A big thank you for this great service Digital Wings offers to the For-Purpose sector. It makes a huge difference to not have to go after funding and wait for months for a response.
The Depot and ArtsLab Teams
WE have just received the wonderful package of 8 laptops and the two tablets …. thank you very much indeed. This support has really bought up to speed our ability to assist the Arts Lab creatives and gallery team in their creative practice and job search whilst they are on our programme. We're all very excited and grateful. 😊
Rangiwahia Environmental Arts Centre Trust
The Board and Membership of Rangiwahia Environmental Arts Centre Trust would like to extend thanks for the donation of computer hardware for the Centre. It has made a huge difference to the connectivity of the diverse membership. The centre users have a much better experience with newer more familiar technology.  The benefits were amplified during the Pandemic and subsequent lockdowns where remote working and separation became the norm. We were able to host online workshops and record programmes which were used by the Ministry of Education for students isolating at home. We thank you for your support and aiding us with our sustainable goals by provision of repurposed hardware.
New Settlers Family and Community Trust
I just wanted to quickly say thank you very much for the beautiful iPhone gifts from the Digital Wings team. I will greatly support our work with the refugee communities. May I ask for the original copy of your logo so then we can upload it into our website to acknowledge your support.
Crescendo Trust Aotearoa
Thanks to the generosity of Digital Wings, our growing team can work flexibly and stay connected. Digital Wings have been instrumental in giving our rangatahi the opportunity to use industry standard equipment, empowering them in their creative journeys.
Voices From the Spectrum Trust
Our 100% Autistic computer group is going very well, meeting three times a month. They are working on developing a game at the moment, which is a long-term project. They started a few months ago and hope to submit their demo to The NZ Game Festival. This would not be possible without the laptops from Digital Wings. This group is very important to the people who use it. As well as programming and design, they've also done 3D modelling, spreadsheeting, SQL, and lots of maths. They're a brainy bunch.
Maniapoto Maori Wardens Charitable Trust
I write this letter of thanks on behalf of our Maniapoto Maori Wardens. The PC's/resource donations provided to our group have been very appreciated and very well used to its fullest abilities and further support would be greatly appreciated. It will enhance our group's ability to upgrade our skills, keep us digitally savvy/updated and training needed to stay current, is essential in ensuring our trust is capable of moving forward into the future, with the knowledge and tools to cope with the growing digital world that we live in today.
The Family Centre
"These links to resources are fantastic! I really like the young people's videos and the tech advice videos. They are so useful! It makes me think there is another whole project in filming some Samoan language videos of the same script so that this knowledge can be shared more accessibly for older generations over 50 plus for example. Thank you again Di and your work to establish Digital Wings. It's such a huge help to us as a small three tikanga organisation that often finds it hard to get help with tech equipment for the use of community people who come through the Family Centre."
CanBead-CanInspire Charitable Trust
"Thank you so much for considering us. What WONDERFUL news. Thank you I cannot tell you how much this will help us. So uplifting for our charity to get this valuable support. Your generosity and assistance is gratefully accepted. This will be such a boost to our little charity, and I am pleasantly surprised by how quickly you can action such a request. Much appreciated, Thank you SO much! Have a wonderful day."
Birthright Hutt Valley
"Thank you so much for the laptops etc that we have now received. We are so incredibly grateful for your generosity, they will make such a huge difference to the team, particularly transitioning between working in the office and at home as we're regularly having to do now!"
Haa Ora Charitable Trust
"Kia Ora, Thank you once again for your support and aroha in sending the laptop package to Haa Ora Charitable Trust. The computer and phone are very popular we are also helping our young students with their learning and school projects especially the students in their senior exams. Te Reo Maori, Tikanga Maori and Matariki study are very popular. Online zoom and study are very popular too and we would like to be able to connect to two other networking households by zoom and online. If we are able to find 2 more second hand or reconditioned computers.
NZ Gifts of Love and Strength
"Hi Di, I'm not sure if you saw our Facebook post tagging Digital Wings showing me using a laptop at our accountants Community Capacity Accounting who are also a registered charity. We were applying for COGS funding so that we could continue doing the work providing care packages for victims of trauma. Having the flexibility to take a laptop to appointments has made life so much easier for us. It has also enabled our team who were essential workers during covid to have zoom meetings and continue our work in the community feeding people who were socially isolated that suffer from PTSD. We have attended volunteer seminars at both ARA and University of Canterbury and been able to run a PowerPoint presentation on one laptop and have a sign up on another laptop which has been hugely beneficial. When we have run events where we entertained children who lost everything in a school fire, we had to produce arts and crafts from templates on the laptops and we created many smiles for the children attending those days. We are so thankful for the support we have received from Digital Wings, as a small charity we do not have a big budget to simply go out and buy a new laptop or computer.
Kickstart Upper Hutt
Just confirming that the computers provided by Digital Wings for us have been hugely helpful.  We now have a workstation setup with PC's which are used every day by both students and staff who previously were having to wait in line to use a PC. The process of applying, and receiving PC's from Digital Wings was very simple, and has made a huge difference to our organisation in being able to meet the needs of staff and rangatahi who we work with.
Accelerating Aotearoa Incorporated, Otara
Nga mihi ki a koe. First of all thank you so much for the laptops and desktops - they are greatly appreciated and being moved into prime position for our STEM school holiday programme in a couple of weeks! We have a really exciting AI project with Microsoft coming up so it's perfect timing from both perspectives. Thank also for the link to the Creative Tech Speaker series. Hope that we'll catch up one day before too long – in the meantime thank you again for your support.
One Chance Trust NZ, Rotorua
Kia ora. We have now received both of the laptops that we applied for, and we would like to express our appreciation for your support. The laptops will assist our facilitators in providing programmes to help engage rangatahi at school so that they can be successful learners. They will also assist in the delivery of holiday programmes to keep young people off the streets when school is closed.
The Christchurch Aunties
Thanks for the wonderful set up of laptop/monitor/keyboard/mouse and iPhone. It's all brilliant! I'm excited to have just taken over the management of the Christchurch Aunties, and the impact of the service is overwhelming. There's a lot of work to be done in this space and I am keen to get stuck in. The new tech set up has made the transition more seamless. Thanks again for the wonderful support Digital Wings provides the community.
Evolution Theatre Company Trust
The [first] laptop provided was to improve our production quality and capacity to hold diverse events by giving us access to our own stage lighting control system. It also saved us substantial financial resources and we no longer have to hire a lighting system for this purpose [saving $400 per show]. We are now able to train people to use the same lighting equipment that is used in larger civic facilities, making young technicians more employable. [The second laptop now runs our audio system]. Having reliable equipment relieves substantial stress on the organisation and its leadership. Saves money in hire fees and gives us the tools to train local volunteers and technicians in theatrical production.
Tolaga Bay Innovation Hub
Thank you Digital Wings and team for believing in us and enhancing our capabilities in supporting our community. Computers supported our grassroots businesses in their start-up phases and so much more impact in terms of social connectivity, well-being, networking, positive leadership, entrepreneurial creation to break the cycle of dependency. We provided computers for our rangatahi, kaumatua and members of our community to utilise for different purposes including, research, upskilling, training modules, online shop creation. Di Daniels has been a huge advocate for our Tolaga Bay Innovation initiatives and we are truly appreciative of her tautoko.
Parents Centre Head Office
With Digital Wings laptops we were well prepared with flexible working from home options during the year. The laptops were particularly critical during the August 2021 lockdown as we had additional team members since the 2020 lockdowns. Prior to the donation from Digital Wings they didn't have their own devices and were hot desking and sharing desk top computers. The donation meant they were able to keep working to support our volunteers and ensure services stayed available through the changing alert levels. COVID-19 has been very tough for us financially with many of our income streams impacted. We simply couldn't afford to purchase more technology and without this donation it would have been very difficult to maintain our levels of services and support. Spending money on IT diverts our very limited resources away from service delivery and volunteer support. We thank Digital Wings for also supporting so many of our regional Parents Centres.
Gore Parents Centre
The new technology was a massive help to Gore Parent Centre. We were able to instead of putting funds aside to purchase 1 new laptop were able to put that money towards our parent education classes and support our families. The additional laptop into our facility was a wonderful benefit as previously with only 1 laptop it had to be shared between the treasurer, secretary, guest speakers, car seat and hire technicians and committee members – and was always a bit tricky making sure it was in the correct place and the right time. Now with a second laptop we've been able to house one permanently in our rooms and the second one be moved about as required.
Get Me Started Ngaruawahia
Tena rā koutou. When discussion of a thank you email first came up, my Managing Director summed it up when she replied "how do you say thank you to all that". I couldn't agree more. The adage "there are no words" springs to mind. With that, a few words: Di and Digital Wings. You do things with so much speed, being a first time applicant, I wasn't sure if we had been successful when we were copied into Laptop Order DW#176. It seemed far too quick. Thank you for your availability and support from the beginning and throughout this process. Mauri ora ki a koe. Nikki and those at RemarkIT who give their talent and time to the restoration and repurposing of e-waste in this way. I know that thousands of New Zealanders, especially those with the least access to connectivity, benefit directly from the distribution of refurbished digital technology through RemarkIT's hands, as we all benefit from the responsible repurposing of e-waste. We are grateful to be among those you are helping. Mauri ora ki a koe. Mauri ora ki a koutou. Laurence from the Digital Inclusion Alliance Aotearoa. We acknowledge your role in our application being successful. Please accept our gratitude. Mauri ora ki a koe. I'd also like to acknowledge [your] deeper commitment to digital inclusion alongside your partners and programme partners delivering both the means and the digital literacy to enable inclusion. Mauri ora ki a koutou. Ngā mihi manawanui ki a koutou. A warm and heartfelt thank you all
Waikanae Cameo Society
Thank you all so much! This is extraordinarily generous of you and the computers look so professional.  Sylvie has set them up and we are hoping that Chorus will finally have us connected to fibre in the next few days so we can put our plans to work to help Waikanae residents, especially the elderly, understand digital technology better. Again, thank you. Have a lovely weekend.
Grandparents Raising Grandchildren Trust NZ
"Wow, you have made my day.  Thank you for sending through the attached information.  You have been an amazing help and support for not only myself, but GRG as an organisation.  Your support means the world to us, enabling us to better support our Support Group Coordinators with their delivery service at a localised level."
Wharepuhunga Playcentre
"We wanted to thank Digital Wings organisation for supplying us with a laptop when we most needed it. Our computer had just died and with many other expenses we needed to cover we were worried how were going to cover the expense of a new laptop. It is appreciated more than you can imagine and was a very welcomed relief from our families.
Gut Cancer Foundation
"Thank you for your generous donation of a laptop for the new fundraising staff member here at the Gut Cancer Foundation. GCF is a small but growing charity. Contributions like this one from Digital Wings are exceptionally important as they help us to keep our costs low and release more funding for vital research and awareness raising. Over 5,100 New Zealanders are diagnosed with one form of gut cancer every year and unfortunately, survival rates for this group of cancers are particularly low. Your generosity will help in our mission to increase survival rates, life expectancy and quality of life for gut cancer patients and reduce the number of New Zealanders that develop gut cancers in the first instance.
Te Awanui a Rua Charitable Trust
"We appreciate all that Digital Wings has done for our Trust and Community with the donation of the technology. Helped us to keep students onsite so less distraction from Library and due to lack of resources in our community, we were able to provide free access to Wi-Fi with pcs to use. There is no way that we would have been able to provide these services without funding when we opened our Trust with no funding for 3 years, it was a dream of a single mother who could see the missing links in our community.
Te Nehenehenui Māori Committee
Tēnā koe Dianne. Our organisation thanks Digital Wings for the Desktop Computers and Laptop. This equipment will prove invaluable for teaching and communication aids for our Rangatahi, especially relevant during these Covid 19 times. Your organisation provides an excellent community service and we have recommended that other community groups within our network contact you.
Special Olympics Whanganui
Hi Di. It is with a full heart and a smile on my face that I reply to this email. I can assure you that the Team Management, Coaches and Athletes from Special Olympics Wanganui join me in saying thank you. This will be a fantastic way for our Organisation to move forward with ease digitally, ensuring that the information that is needed for sporting events, training and contact tracing during this period of time with Covid19, is stored efficiently and safely and that it can be taken anywhere with ease.
North Canterbury Alpine Trust
Digital Wings Technology has given us the tools to move into and thrive in the digital world. The technology will enable us to create more digital educational opportunities, e.g., Online training for the Duke of Edinburgh Hillary Award.
Tuatapere Toy Library
We are very happy with the laptop you have given our toy library. We just wanted to let you know we are grateful and appreciate it very much. Have a happy day!
Literacy Aotearoa National Office
With thanks to Digital Wings, the quality and quantity of digital resources to our organisation was literally overwhelming and greatly appreciated by our staff, volunteers and learners.
Name Withheld for privacy reasons
Just a note to say, I had a head injury a couple of months ago and the printer provided by Digital Wings has been a lifesaver as I can only look at screens for a limited time. Thanks so much for all you do!
Everywoman and Friends Taumarunui Trust
Kia ora Dianne, I just wanted to send you a quick email to advise that the delivery has arrived and we are so grateful! The desktop means that it is now possible for our chairperson to zoom in, rather than on her tablet and we now have the laptops set up in the Connected space until we head into our own building. A couple of participants have already been in to test drive these while working on their business planning with Thrive Wanganui. So, so, sooo happy!!!
Okato Playcentre
Kia Ora, Okato Playcentre has received a delivery of 1x laptop and 1x desktop computer. Thank-you SO much!! Can't wait to set everything up. This is going to make admin life so much easier! We have just found out that our roof needs replacing, so we will be able to put more money aside for that now, instead of computer equipment.
Evolution Theatre Gisborne
Dear Di, The laptop was delivered around midday today and we're delighted.  Whew! The [Steel Magnolias] cast is ready to go, ticket sales are looking good, the set authentically represents a hair salon in the eighties and we've got lighting/sound under control thanks to Digital Wings.  It's an auspicious beginning for what promises to be a memorable production. We can't thank you enough for prioritising our application for DW's assistance but we'll try nevertheless.
Bike Manawatu
On behalf of Bike Manawatu we want to say a massive thank you to Di Daniels at Digital Wings and the team at RemarkIT for the amazing donation of our tablet and laptop we recently received. We really appreciate the grant, it makes a huge difference to our organisation, it's simply amazing the work you do for the community. [Bike Manawatu use their new technology in the office and out on the track for timing]
Hikurangi Friendship Library
"We want to thank you so much for the computer you provided us [Hikurangi Friendship Library]. Today I started the process of cataloguing all our books digitally and I couldn't be happier. The computer does everything we need it to and it is already obvious how much easier it is going to make our book-borrowing processes. Without your donation we would not have been able to afford to buy a computer for at least 1-2 years. Your donation has enabled us to progress our services much faster, which will allow us to provide a better service to our community much faster! Thanks again, Merry Xmas to you and your team. I hope you get a well deserved break."
KIWIBOTS NZ
"Just a quick email to say thank you thank you THANK YOU for the laptops. They have all safely arrived and I've got them set up with the software so we can run our workshops and tournaments. They've already seen their first use last weekend [Nov 2020] in Christchurch as I took some with me for the event down there, and they will shortly see their next use this weekend [Dec 2020] in Auckland for our final 'local' event of the year before the large event in Palmy for the VEX IQ Nationals. After that I plan on using them with workshops we are running in the STEMwana trail for the robotics engagement. You've really made all of this possible, and I can't thank you enough. I hope you have a restful holiday period coming up."
Bay of Islands Animal Rescue
I just wanted to thank you so much for thinking of us with the laptops. They arrived late last week and are amazing!!! Nice and light, super fast, and they have Office on them.  I am training [our manager] on one so she can do social media on it, she is a slowly getting into the IT world. Thank you again, it's truly appreciated.
Multicultural Whangārei
"We are extremely grateful to you, Di, Digital Wings and the team at Remarkit for all your mahi in making this all possible. Thanks both to you and Digital Wings for your ongoing support. Many thanks from all of us here at Multicultural Whangarei. From all of us here, thank you!!!! Hei konā mai,"
Leg-Up Trust
"Thank you so much for the donation of two desk top computers for Leg-Up Trust.  We really appreciate the kindness of your organisation supporting so many worthwhile charities and organisations around New Zealand.  They arrived safely and are set up ready to begin. The timing for us could not have been better as we are just beginning to complete Correspondence school work for one of our individual students and were looking at having to use my office computer for her to complete her work.  This of course would make my administration job very difficult. Having the two new computers will mean we will be offer Correspondence work to other students as well which is just fantastic. From the team at Leg-Up we wish you the very best and cannot emphasise enough how valuable these computers will be."
Heretaunga Women's Centre
"Kia ora Digital Wings team, the laptops we requested have been delivered to the Heretaunga Women's Centre. Thank you so very much for these. It's an amazing service that you provide - you've no idea what a difference these laptops will make to the effectiveness and efficiency of the services we provide at the Centre.  I'm so grateful for your support - you're just amazing!!
Taranaki Retreat
Kia ora koutou Confirming with absolute JOY and finding it all quite hard to believe!! Whānau - this is going to change EVERYTHING for us. I can't begin to describe the difference that you have made by giving this support. Just utterly utterly stoked - and, on behalf of all those who will be helped because of YOU - THANK YOU THANK YOU THANK YOU.
Ka Pai Kai Rotorua Board
Kia Ora, I just wanted to send you a thank you for the phones and computers that you provided us earlier this year.  They are all getting put to good use! Ka Pai Kai is opening new branches this month, and I wanted to ask if we are allowed to apply again for additional donated technology.
The Home and Family Society Christchurch
Thank you again for the laptops way back in February. Of course, we couldn't have known at the time how useful they would prove to be. Because of the 6 laptops from Digital Wings we had enough for every single one of our staff to make a seamless transition to 'remote-working'. Because the computers you provided were all a huge improvement on our old ones, it will be even easier for us to maintain our support of children and families, albeit digitally.
Otamatea Community Services, Maungaturoto
Wanted to let you know how helpful our new IT devices are, we now have staff set up with computers at home to continue working during the COVID-19 lockdown. Getting this equipment from you has been a life saver for the OCS staff given this current situation so thank you all so much! It means the OCS staff can continue with their counselling and community support work by phone and online and still have access to all the resources they need.
Porirua Living without Violence
On behalf of the staff of Porirua Living without Violence, we wish to thank Digital Wings and RemarkIT Solutions for the sponsored donation and refurbishing of the desktops and laptops, which we received on the 25 March 2020. As an agency working in the area of Family Violence these resources are much appreciated and will enable Porirua Living Without Violence to carry on our work in providing Intervention, Prevention and Education programmes for Men, Women and Children in Porirua and the wider community, to live free of all forms of violence, abuse and oppression.
Talent Rise Trust NZ
Thank you Di for our donated laptops. As we are not in session we've had enough spares to send home with my colleagues so that they can RFH, thank you so much. Has been awesome that our business can be running remotely with your support! We have a few left over for our graduates who may need to work remote too!
Paparoa Parish District
Awesome, thank you so much - the support of your organisation is very much appreciated and will make my work in the community much easier to do. Thank you for thinking of the bigger picture and keeping us in the loop Di. We just appreciate any support we can get when it is available.
Graeme Dingle Foundation
WOW!  It is amazing how many organisations you are able to help out, what a great organisation!  I know [our regions] are supremely grateful for the support they've received - especially with our team in Hawke's Bay!  Who knew when we requested your support that it would in fact be as necessary as it has been!
Riding for the Disabled Manawatū
Just letting you know our computer and laptop arrived today. The timing is amazing, if we head into [Auckland August] lockdown next week the laptop will be essential in continuing with all the administrative tasks our office holders are required to undertake, without coming into our centre. On behalf of Waiheke Playcentre a huge thank you for simplifying our already busy lives.
Stratford Parents Centre
Having [Digital Wings] laptops to share the busy volunteer workload has been so helpful to complete tasks and communicate with the community and much better governance for current and future committee members. We're about to do our first online Childbirth Education course in May due to the COVID-19 restrictions. Having the laptops has certainly made the organising of this much easier. We have been able to reach our members and those that follow our centre on Facebook each day during the lockdown – easily between 500-700 people. It is reassuring to know that we can still communicate vital information and keep members in the loop with all happening around us. Our committee members can use laptops from home, the majority of our volunteer work is done at home, usually at night when our children are asleep. We are so grateful for the donations, we tried applying for grants to cover the costs of new ones but never had any success.
Age Concern Wellington
Many thanks for the computers Age Concern Wellington have received recently; we would like to add to your testimonials. Because of the help from Digital Wings, our staff and volunteers have been able to continue the work we do for seniors in our communities. As a charity, we rely on donations and are incredibly grateful for your support.
Napier-Greendale Stroke Recovery
"Hi Di, thanks for all your fantastic help. The laptop was delivered at 7.15 this morning. I find this incredible. I am going down to Stroke Central for a meeting on Monday. I thought I would take your flyer with me. There may be other Stroke support groups in the same situation I was [old desktop running Windows 7 died]. Have a great day".
Riselaw Road Playcentre, South Dunedin
"Kia ora. We have plugged everything in and it all turns on and connects to the internet. We are so grateful for the new computer and laptop. They are going to be a huge asset to our Playcentre. We have already had a couple of parents ask to spend some time in the office so they can work on their adult education program that helps educates our parents in Early Childhood to ensure we run quality sessions for our tamariki.
Somerfield Playcentre
"I would like to say a massive thank you for accepting our request for a laptop and all in one computer.  We have them up and running and everyone is amazed at how much better and faster they are compared to our old ones!  I'm not sure how we put up with them for so long!  We really appreciate the support from Digital Wings and the RemarkIT team as it frees up our funds to spend on resources and equipment for our tamariki.
Evolution Theatre Gisborne
Dear Di, The laptop was delivered around midday today and we're delighted.  Whew! The [Steel Magnolias] cast is ready to go, ticket sales are looking good, the set authentically represents a hair salon in the eighties and we've got lighting/sound under control thanks to Digital Wings.  It's an auspicious beginning for what promises to be a memorable production. We can't thank you enough for prioritising our application for DW's assistance but we'll try nevertheless.
System Unboxing - Paula Phillips - 2022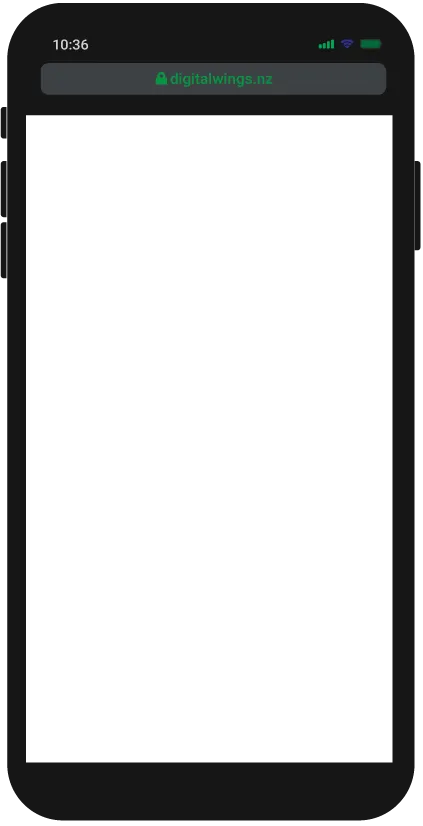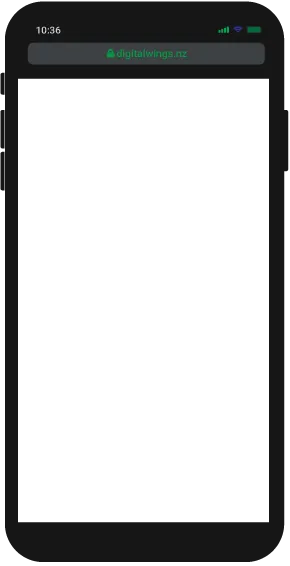 Amanaki STEM Academy
(Fostering the Sciences in Pasifika Youth)
"Thank you so much for sending these reports through – it's so heart-warming to see what a difference these refurbished devices are doing for so many community organisations!  Not to mention, diverting the e-waste from landfill!"

‍Senior Sustainability Manager Social Impact, Westpac NZ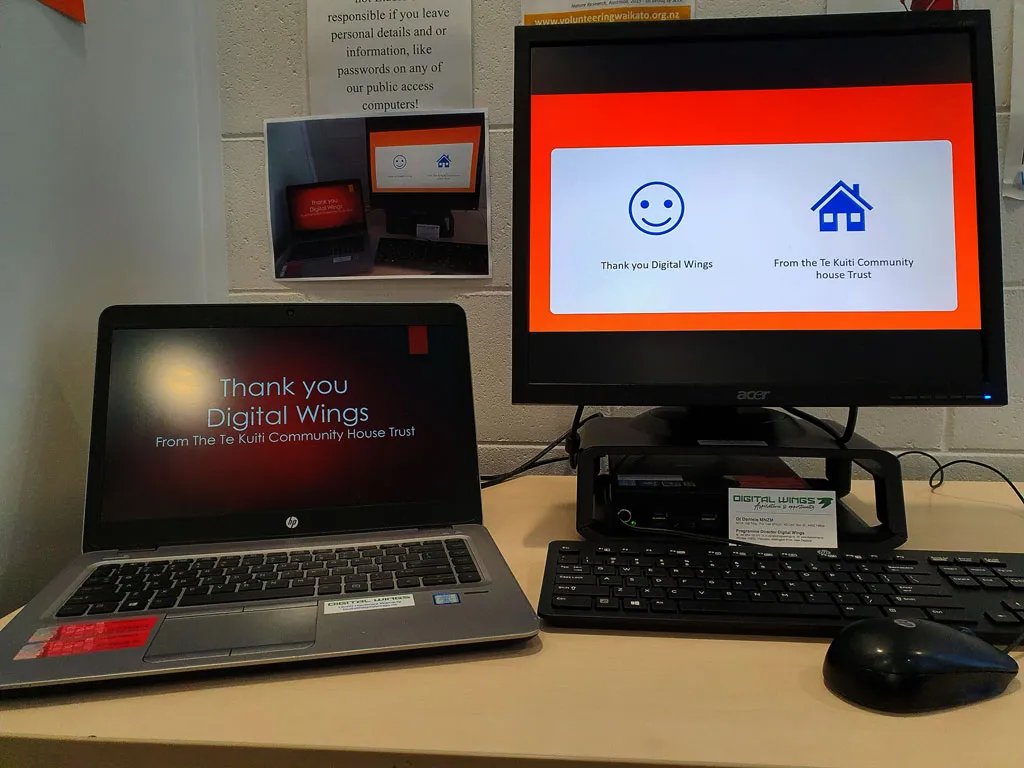 A Digital Wings Desktop PC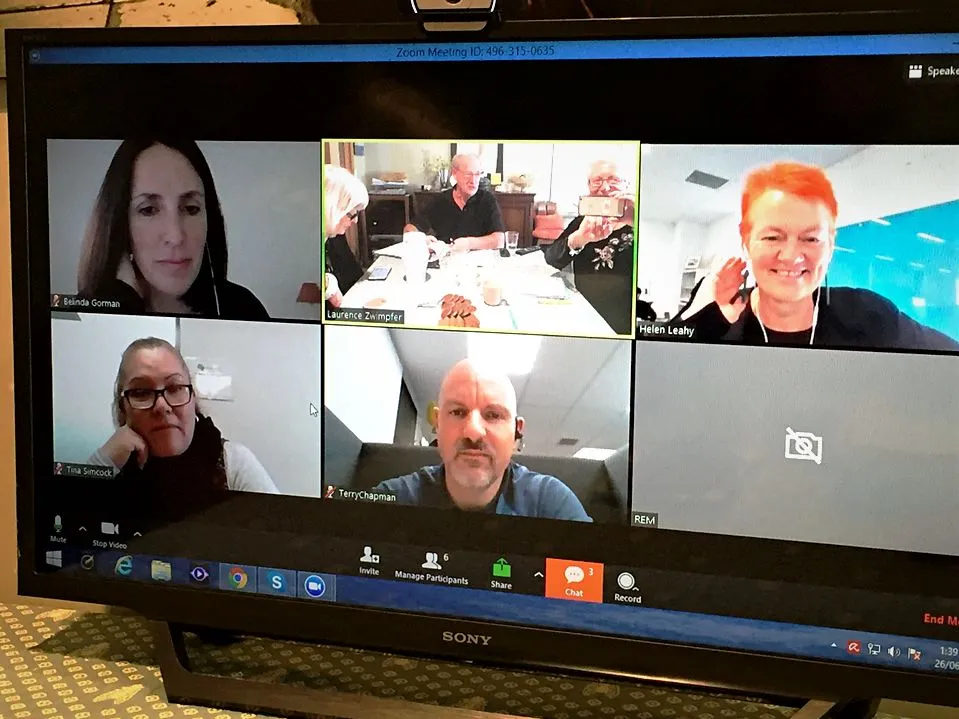 A Digital Wings Desktop PC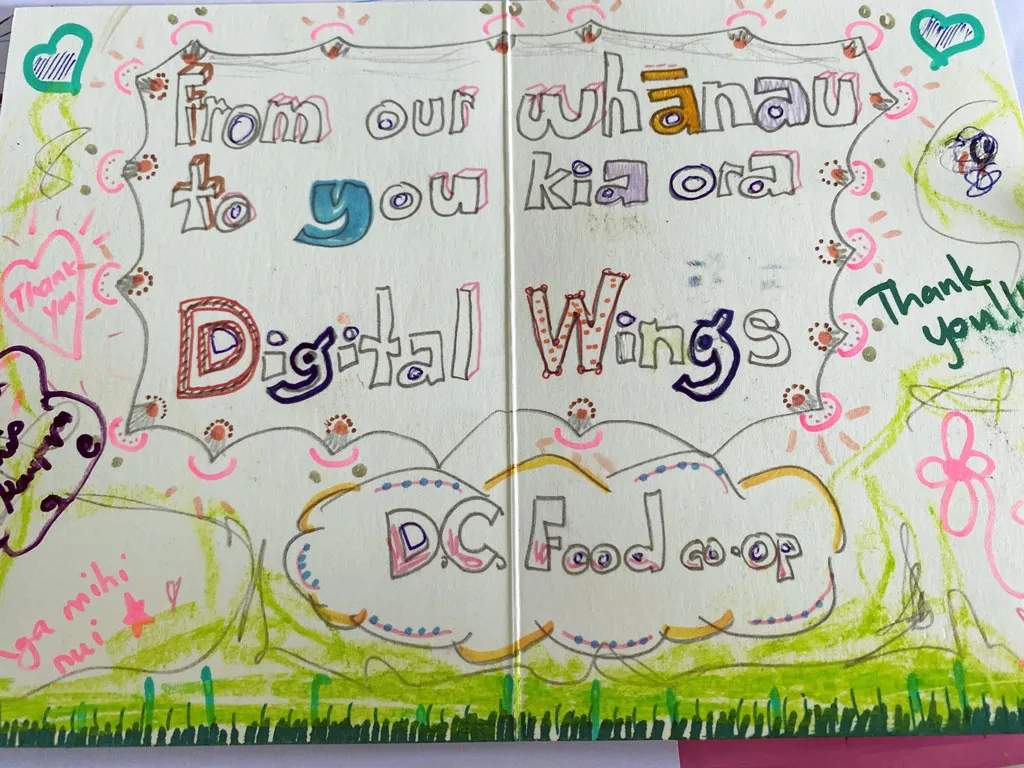 A Digital Wings Desktop PC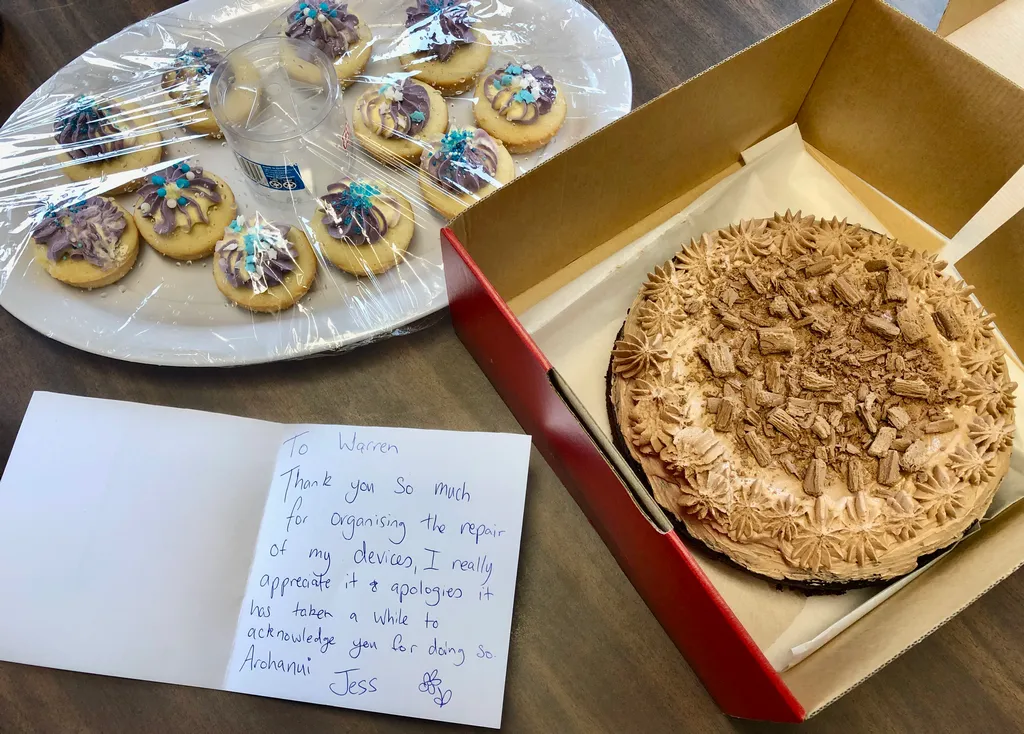 A Digital Wings Desktop PC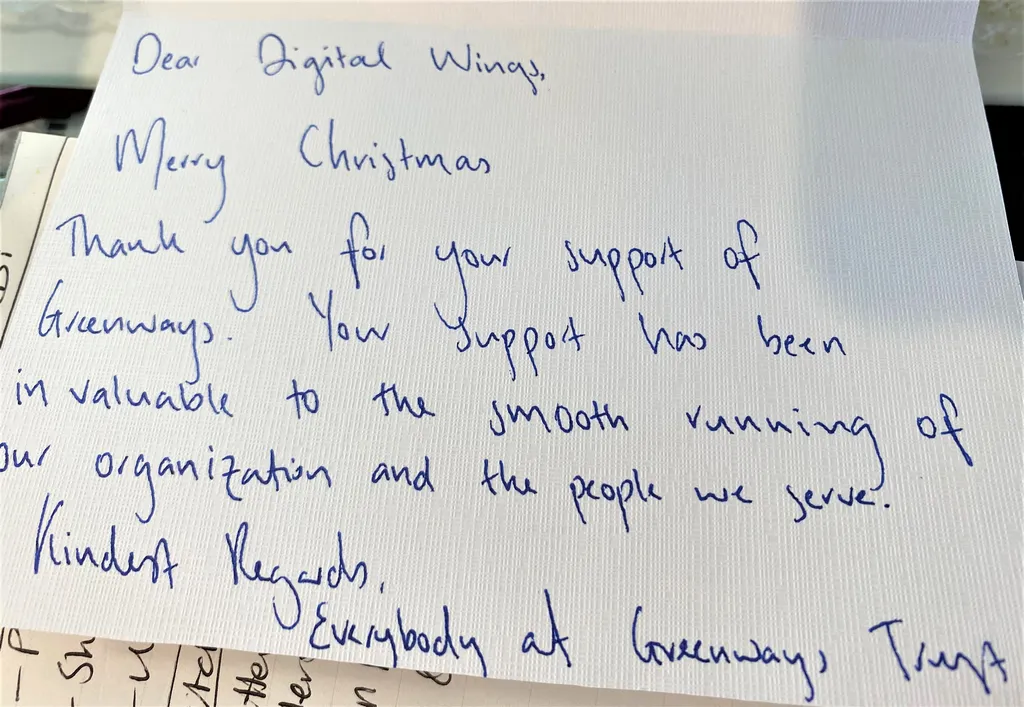 A Digital Wings Desktop PC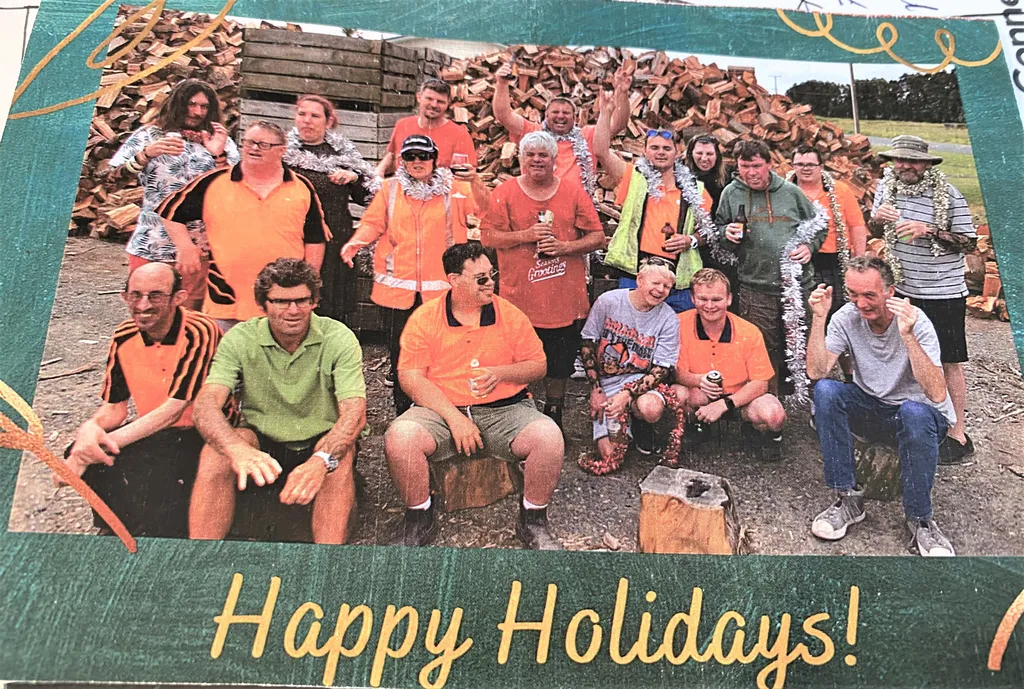 A Digital Wings Desktop PC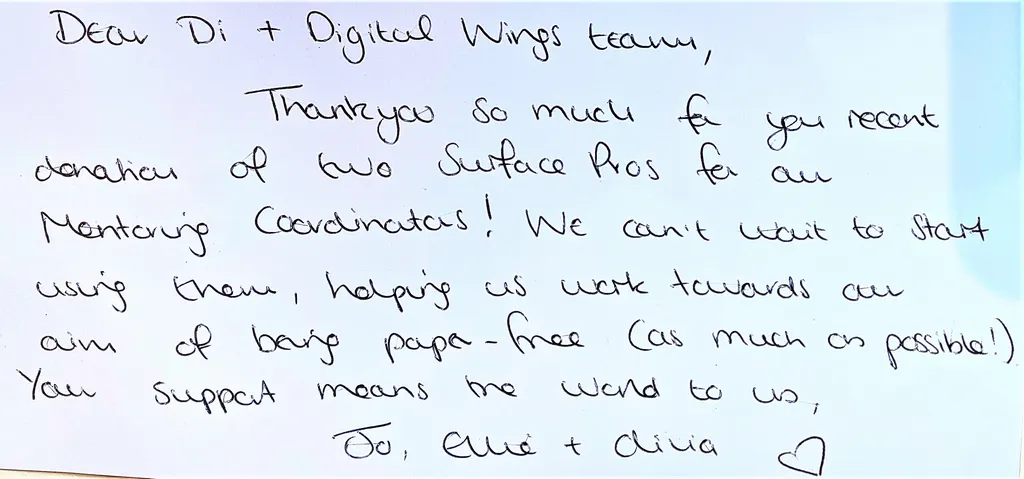 A Digital Wings Desktop PC